Cutting Your Fabrics

Piecing Your Fabrics
All Seam Allowances 1/4" unless otherwise noted.
1) Following the manufacturer's instructions for your fusible web, trace and cut out the rooster using the enclosed pattern and Fabric A.
2) Machine or hand appliqué the Fabric A rooster to Fabric B.
Note: You *must* print out the PDF instructions to obtain the rooster.
3) Sew the long side of your four Fabric C triangles to the sides of the rooster appliqué block as shown. Press toward red line and clip your corners when done: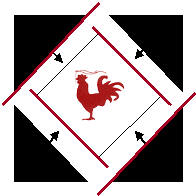 4) With Fabric D strips, sew the border to your rooster center as shown (top & bottom first, then left & right sides). Press toward Fabric D when done: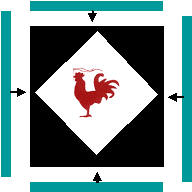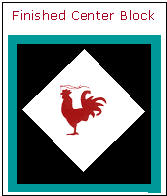 Now You're Ready for Instruction #2!