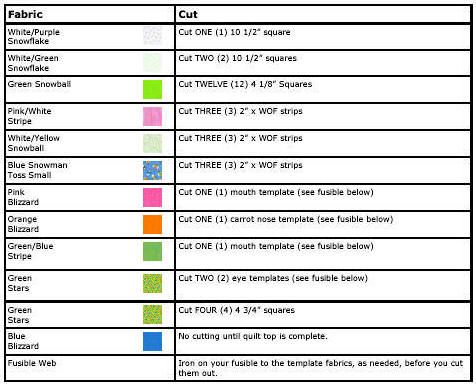 Piecing Instructions
1) Draw a diagonal line from corner to corner on all 12 of your Green Snowball 4 1/8" square fabrics.

2) Line up your Green Snowball fabric square to the corner of one of the White/Green Snowflake 10 1/2" squares, right sides together, and sew ON the diagonal line you drew, as shown. Repeat for all four corners of each of the White/Green Snowflake and the White/Purple Snowflake fabrics. Press toward the Green Snowball fabric.

3) Embellish your three blocks with the template pieces, with the top White/Green block having the face, the White/Purple block is the middle of the snowman and the remaining White/Green block is the bottom block. It's optional to use a stabilizer, but it's a good practice to get into when doing appliqué. Using a zigzag or blanket stitch, appliqué around the template pieces.

4) Next, sew your 2" strips together, one fabric strip per color - you will end up with THREE (3) completed strips. Be sure to sew in OPPOSITE directions when you change fabrics to avoid the fabric 'bending.' Press outward on each strip.

5) Now, it's time to put your TT Snow Days Snowman together!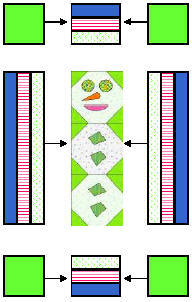 6) Finally, make your quilt sandwich with the Blue Blizzard as the backing and quilt your quilt. We turned the backing over, with a 1/2" seam allowance, from the back of the quilt to the front and stitched the binding down from the front.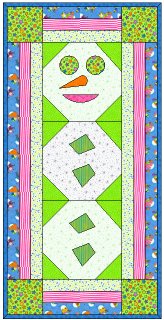 How cute is that?!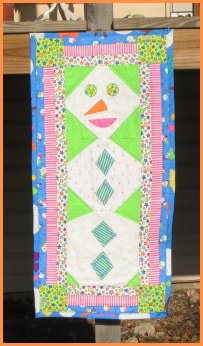 Thank you for sharing in this fun TT Snow Days Snowman project with BOMquilts.com!